The Angelica Herb
(Dong Quai)
The Angelica herb, also called Dong Quai, is a wonderful herb to use for natural menopause relief.
In traditional Chinese, Japanese, and Korean medicine, this herb is called Dong quai, and Chinese women have been using it for centuries to cure feminine issues.
This herbal supplement is made from the roots of the Angelica plant, a tall plant with white flowers.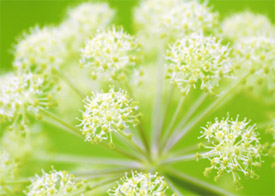 ---
Why Does It Work?
It contains phytoestrogens, which are natural estrogens found in plants. Their structure is similar to the structure of the natural estrogen created in our bodies.
Taking phytoestrogens gives our bodies estrogen like effects which can reduce hot flashes, nightsweats, and vaginal dryness. It can also help us to avoid osteoporosis.
---
The Angelica Herb & You
Note that you should not take this herb if you are pregnant.
This herb is used to balance your pre menopausal and menopausal hormone levels.
Because it helps circulation and balances hormones, many women take this herb to get natural menopause relief from the following list of symptoms.
PMS Headaches and Other Pain: These symptoms are often helped because of the hormone balancing that the angelic herb offers.
Night Sweats and Hot Flashes: Again, by regulating your hormone levels, this herb helps to alleviate night sweats and hot flashes.
Vaginal Dryness: Angelica increases blood flow, which can help to combat vaginal dryness.
Digestive Problems: It can help to relive bloating and stomach cramps.
High Blood Pressure: This herb is know to increase circulation and ease stress, helping people with high blood pressure.
---
It's So Good
Along with the phytoestrogens described above, this herb also contains vitamin B 12, zinc, calcium, magnesium, and iron.
It is the most used herb in China, and it is probably the best overall choice for treatments for menopause and pre menopause symptoms.
Return to the Natural Herbs for Menopause page.
Go From the Angelica Herb page to the Estrogen Source Homepage.


Copyright  © 2009- 2015 Estrogen Source. All Rights Reserved.

The information on this site is my opinion only.
Consult your doctor before acting on any information found here.

Click here to read our Privacy Policy and Disclaimer.