Natural Estrogen Replacement
Using a natural estrogen replacement like herbal estrogen or estrogen cream can balance your menopausal hormones naturally!
Of the three ways that you can supplement your estrogen levels, most people would categorize two of them as natural. These are herbal estrogen and bioidentical estrogen.
The third possibility is synthetic estrogen. This estrogen is made from animal based estrogen and is not molecularly the same as the estrogen that your body produces.
Let's look at the two types of natural estrogen.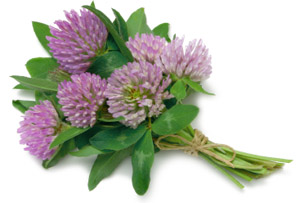 ---
Herbal & Plant Estrogen
The estrogen in herbs comes from plant estrogen or phytoestrogen. Herbal estrogen is not molecularly the same as the estrogen produced in our bodies.
Phytoestrogen gives your body estrogen-like effects that can help to alleviate many symptoms of menopause without putting you at risk for breast and uterine cancer.
Some of these supplements have been taken for thousands of years by Chinese and Native American women to control their menstrual and menopausal symptoms.
These herbal and natural remedies include:
---
Bioidentical Estrogen
Using soybeans and yams, scientists create bioidentical estrogen. This estrogen is molecularly identical to the estrogen that your body naturally produces.
Bioidentical estrogen is made from three different types of estrogen: estradiol, estrone, and estriol.
You can get bioidentical estrogen with either a prescription from your doctor or over the counter. You can find it in the form of pills, creams, patches, or vaginal rings.
---
Natural Estrogen Replacement: The Great Debate
Because bioidentical estrogen is in the same form as the estrogen in our bodies, some argue that our bodies recognize it easier and therefore it gives us less chance of unwanted side effects.
They contend that bioidentical hormones are clearly superior over synthetic hormones, while others say that there is not enough evidence to prove this.
I recommend talking to your doctor and looking into natural estrogens found in herbal supplements.
Years of women using these herbs with positive experiences along with the low possibility of side effects is a great reason to take natural estrogen supplements.
---
Be Holistic
No matter how you choose to balance your hormones, you'll be better off if you are holistic in your treatment.
Being holistic means treating your whole person - not just your physical symptoms.
Your hormonal imbalance affects more than just your body because you are more than just a body.
Along with the physical side of your treatment (taking supplements, following a good diet plan and exercising regularly), it's best to treat the mental and emotional side as well.
Now is your time to be good to yourself! De-stress with candles, a visit to the spa, or a favorite book.
Work through issues (we all have them!) with a therapist, spouse, or friend.
The mind-body-spirit connection within each of us is strong. You may be surprised at how treating your mind and spirit will positively affect your physical health.
Go From the Natural Estrogen Replacement page to the Estrogen Source Homepage.


Copyright  © 2009- 2015 Estrogen Source. All Rights Reserved.

The information on this site is my opinion only.
Consult your doctor before acting on any information found here.

Click here to read our Privacy Policy and Disclaimer.